Youth Apologetics Training with RZIM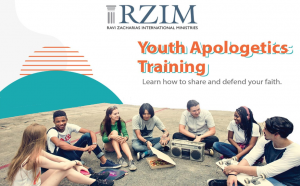 We are so blessed and excited to have RZIM (Ravi Zacharias International Ministries) coming to Wichita and Central Christian.  For over 30 years and across 43 countries, RZIM has met millions of questioners with thoughtful answers concerning faith and God.  We encourage you to attend and please invite others to this Apologetic weekend event.
Join us Sunday, October 6th from 2-3:30pm in the Central Christian Church worship center.