Fifth Grade | Mrs. Matticks – Miss Stewart – Mrs. Hedstrom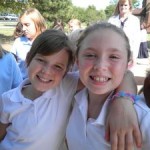 We think outside the box in fifth grade! Students get involved in exciting activities that are outside the textbook and the classroom.
Bible
Our main focus is the Fruit of the Spirit (Gal. 5:22-23). Students also memorize Scripture and discuss lessons taught from the Positive Action Bible curriculum, which concentrates on the Old Testament and living a life that is pleasing to the Lord. Students enjoy working together to turn our classroom into the Old Testament Tabernacle and participating in puppet shows to emphasize the monthly character trait.
---
Reading
Students excel in classes designed to accommodate their unique learning styles. Students read, analyze, evaluate, and respond to a variety of literary forms, including short stories, novels, and poetry using the literature text published by Mosdos Press. Additionally, students participate in quarterly novel units. Teachers encourage students to become life-long readers through their participation in the Accelerated Reader program.
---
Spelling & Vocabulary
Students demonstrate spelling and word usage through the Wordly Wise digital curriculum. They are challenged to use words in context, identify multiple meanings and parts of speech, and identify synonyms and antonyms.
---
Writing & Grammar
Students experience great success in understanding grammar through Shurley English and writing projects. Our student authors continue to develop their writing using the six-traits writing process. Mastery of these traits gives our fifth grade authors the skills they can use for life.
---
Mathematics
Fifth graders use the Harcourt School Publishers math text. Teachers reinforce concepts using a variety of hands-on activities and projects. Enrichment includes IXL math and fun projects such as the Potato Olympics.
Social Studies
History comes alive in fifth grade! Students use the A Beka text, Old World History and Geography. Additionally, students' understanding of history and geography is enriched by a variety of activities and field trips.
---
Science
Our God has created an incredible world, and we love to study it! Students can hardly wait to do the experiments, lab activities, and projects in science class. We utilize the Science 5 textbook published by the Bob Jones University Press to assist students as they learn about the properties of matter, motion, forces, energy, rocks and minerals, and health. They also love to use their computer skills to create PowerPoint presentations and Microsoft Publisher brochures to further investigate the concepts being presented. Hands-on activities from AIMS (Activities Integrating Math and Science) also enrich the curriculum.
---
Enrichment Classes
We are blessed to have art, computer, library, physical education, and music classes scheduled throughout the week. These classes are taught by specialists in their field and in settings specifically designed for those activities. Fifth graders also have the opportunity participate in band, strings, and intramural sports.
---
Fantastic Fifth Grade Activities!
Greek Agora
Rock Springs Retreat
A Taste of Europe
Halstead Heath Center
Museum of World Treasures
The Tabernacle
Rock and Mineral Show
The Cosmosphere
Firefighters Day at the Zoo
Potato Olympics