Fourth Grade | Mrs. Entz – Mr. Swank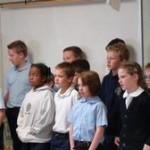 Fourth graders are learning to become more responsible and organized. We use the acronym JOY – Jesus, Others, Yourself – to keep our eyes focused on Jesus in good times and in trials. We want to love Jesus and love each other as we grow and learn together.
---
Bible
Fourth graders embark on a wonderful journey of learning to live a joy-filled life as they memorize the book of Philippians. Students practice assigned verses each week. The Positive Action Bible curriculum focuses our study on the life of Paul and the positive character traits modeled in the life of Christ. Our primary goal is to make the Word of God more meaningful in the lives of our students. Students love to lead their peers in worship by doing one chapel program each year. Prayer and sharing from God's Word is woven throughout the day.
---
Reading
This is the transition in our lives where we move our focus from "learning to read" to "reading to learn;" however we still have a strong program to further develop our reading skills. We have a wonderful reading series published by Bob Jones University Press: I Met You in a Story. The reading curriculum emphasizes comprehension and an array of reading skills. Students read a variety of genres of literature – fiction, nonfiction, biographies, fantasy, mystery, and poetry – all from a Christian perspective. We incorporate throughout the year as well. Our young readers are highly motivated to participate in the Accelerated Reader program as an additional incentive to read and learn.
---
Handwriting
Using A Reason for Handwriting curriculum, students practice cursive handwriting based on scripture verses. Students are encouraged to write clearly and neatly throughout the curriculum.
---
Writing and Grammar
Our fourth grader authors further develop their writing skills through Shurley English complemented by a multi-sensory grammar program. Writing assignments include: informational report, personal narrative, opinion essay, narrative story, and comparing and contrasting paragraphs. Students learn and practice six-trait writing skills.
---
Spelling
Students use Wordly Wise curriculum to increase vocabulary and to combine spelling and phonetic rules to encourage the students to become better readers and writers. Challenge words from other subjects are also included on the weekly lists.
---
Mathematics
Students excel in math classes designed to accommodate their unique learning styles. Lessons, manipulatives, and activities focus on computational proficiency and problem solving utilizing our Harcourt School Publishers math curriculum. Students focus on whole numbers, fractions, mixed numbers, place value, time, graphing, geometry, data, measurement, multiplying and dividing by two-digit numbers, probability, decimals, estimation, and mental math. Fourth graders focus on mastery of the basic facts in all four operations.
---
Science
Our fourth grade scientists love to study the awesome wonders of God's creation. Students perform experiments, participate in hands-on projects, and look up information on specified Internet sites to create amazing science reports. We use the Purposeful Design science text published by the Association of Christian Schools International (ACSI), enhanced by excellent United Streaming videos, guest speakers, and field trips. Unit studies focus on life, earth, and physical science.
---
Social Studies
The History of Our United States curriculum published by ABeka presents the history of our country in story form from a Christian perspective. Students develop their geography and map skills throughout the year. Students learn all 50 states and capitals and participate in a variety of special projects.
---
Enrichment Classes
We are blessed to have art, computer, library, physical education and music classes scheduled throughout the week. These classes are taught by specialists in their field and in settings specifically designed for those activities.
---
Fabulous Fourth Grade Highlights
Colonial Day
"Wax Museum" of Historical Figures
Explorer Report
Video Scavenger Hunt
"Best Christmas Pageant Ever"
Hawaiian Luau