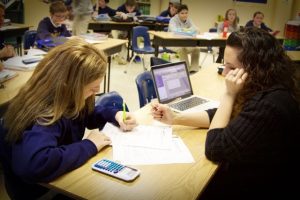 MISSION
Central Christian Academy's mission is to partner with the Christian home and local church to educate and equip students to reach their full academic, physical, and spiritual potential in Jesus Christ.
---
OVERVIEW
When Central Christian Church decided to relocate in the far northeast part of Wichita, the idea of a Christian school was part of the total picture. Throughout American history, the church has been historically instrumental in providing education for its youth.
Central Christian Academy, chartered in 1982 as a ministry of CCC, strives to teach and train children and youth within the context of a biblical worldview. The host church has a governing board of elders responsible for the oversight of all church ministries. The head of schools works with the counsel of the elder-appointed school committee and other school administrators to direct the educational efforts of the school. All policies and budgets are reviewed and approved by the CCC Board of Elders and CCA School Committee.
Both church and school share the cost-effective advantages of a modern, well-equipped facility, as well as embracing the same belief in the Bible and practices in the New Testament Christianity.
---
EDUCATIONAL PHILOSOPHY
Education at Central Christian Academy is founded on the conviction that God is the author of all truth and the creator of all life. This eternal triune God (God the Father, God the Son [Jesus Christ], and God the Holy Spirit) has revealed Himself through the Bible, His infallible and inerrant Word.
---
ADMISSION STANDARDS
Central Christian Academy partners with born again, Bible-believing, Christ-honoring parents in the education of their children. It is a requirement that both parents and/or guardians be in full agreement with the school's statement of faith, which reflects a Protestant evangelical tradition. Both parents and/or guardians in the home must give a clear testimony of faith in Jesus Christ as his or her personal savior.